LOOK 4 LUV
A while ago, when my Cousin and I were flippin' obsessed with Green Day and Everything Green Day (I still love them, but I'm not obsessed anymore. It's a more healthy relationship, haha) we were perusing the Green Day website and came across this recording of Billie Joe Armstrong doing an interview about his very first record. He was 5 years old. The Song was called "Look For Love". And he was adorable. Anyway, my cousin and I love that saying, "Look For Love". It always makes me smile when I say it, too. So, as a tribute, I give you the "Look 4Luv" Knucks: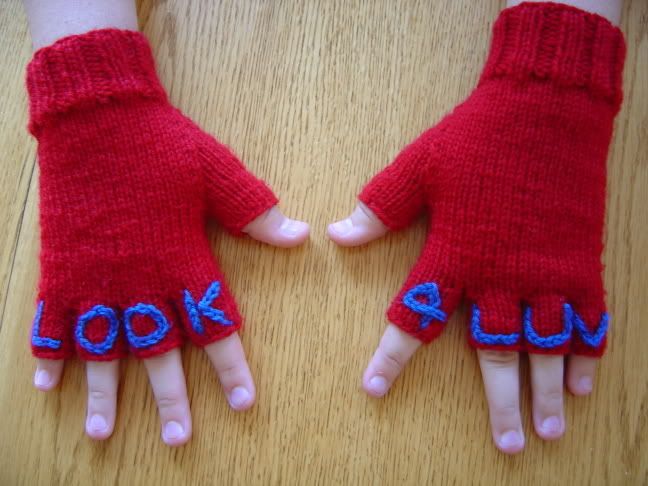 YARN: Cascade 220 (For both the knitting and Embroidery)
Needles: US Size 4 DPNS and two Circulars
Pattern: Knucks from Knitty.com
This was a really Fast knit. I finished them in 2 days! Plus, I LOVE Cascade, so I love these even more. This was my first time making Gloves, rather than just mittens. It was pretty easy, and I would really recommend this Pattern, too.